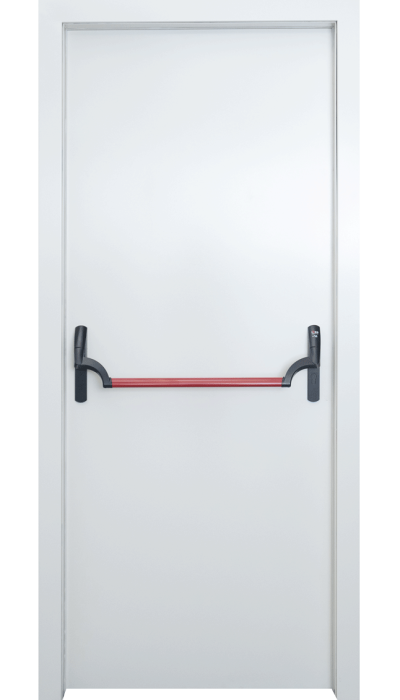 Fire Doors, which must be kept in living and corporate places for security purposes, are specially designed door systems that allow quick escape in case of fire and emergency.
Thanks to the special insulation material inside the door leaf, the Metal Door solutions, which show fireproofing for 30 to 120 minutes, also prevent the passage of flame and smoke to other areas, thus providing the opportunity, time and ground for people to leave the environment as soon as possible.
Our company, which offers high quality and functional door solutions that can be used safely in hospitals, schools, banks, shopping malls, living and production areas with MFD 60 Single Leaf Fire Doors, also meets expectations with our color alternatives that will appeal to every decoration.
Emergency Exit Doors, which we produce from first class quality, steel raw material, are colored with electrostatic powder paint, with panic bar, have a corner frame structure and have hydraulic self-closing device.
The lockable outer handle detail is ideal especially for living spaces, and it also provides impermeability against life-threatening gas and smoke with its EPDM and hot smoke seal.
Our Fire Door and sheet metal frame productions, which are especially attractive for areas with low human density with their single leaf portable structure, are capable of resisting heat and flame for 60 minutes.
Our Fire Exit Door models, with their quality in European standards and TSE assurance, have alternatives that will appeal to the expectations and needs of every sector. We include standard or special designs in our productions with our pre-sales project, application, assembly and after-sales maintenance services, and we always carry out customer satisfaction-oriented works.
2 hinges on each leaf, one of which is bent from 3 mm sheet metal, and one of them is self-spring
150 kg/m3 Rockwool, 50 mm, Fire Resistant Gypsum Board 
E Class 120 min. EI Class 60 min.
Fire resistant insulation materials are used in our installations. No mortar or filling