MFD-ECO 90 SINGLE FIRE DOOR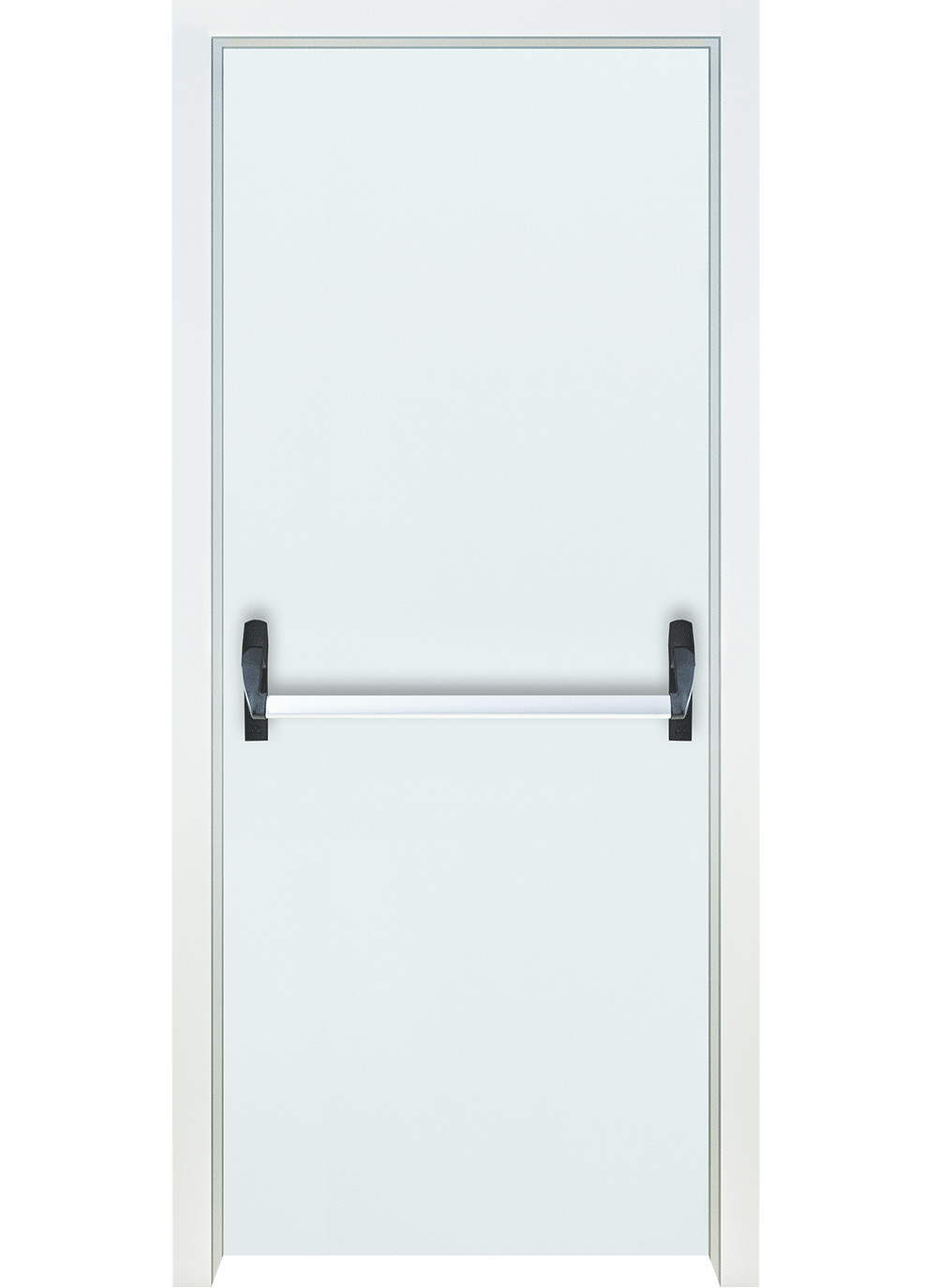 They can be equipped with a special "anti-panic" lock, in which the door is opened by pressing the lever. Such a system is designed to open doors from the inside as much as possible, while the door cannot be opened from the outside. These systems are called fire doors with panic bars. Emergency doors are a vulnerable point because through them it is possible to enter the building without permission. The anti-panic system is a notable improvement as it will help protect the building from the visitation of unexpected guests via emergency exit doors.
If you are equipping the door with a simple electric lock, be sure to consider the lock's compliance with fire regulations. When the power is turned off, the lock should immediately enter the open state. Only when the lock works in this way can it be approved for installation with emergency exit doors.
Automatic sliding door models are also used as emergency doors. Such a door splits in an emergency and also folds up, creating an even larger passage.
It is not unusual for an emergency door to be used in conjunction with an access control system. And in an emergency, people have an unobstructed exit from and to buildings. Generally, the use of turnstile limits the number of people who can pass through the checkpoint, so it is the responsibility of the building and facility owners to arrange an additional pass. Fire door models with panic bars can be more practical. Depending on your security needs, it will be appropriate for you to determine your preference. If we list the fire door features with panic bar:
1. Emergency exit doors and other doors on escape routes should open in the direction of exit from the building.
2. Floor corridors, halls, foyers, lobbies and stairs should not have locks that prevent the free opening of emergency exit doors from the inside without a key.
3. In the open position, stair facing doors should not reduce the estimated landing and flight width.
4. It is allowed to provide glazed doors on stairs and elevator halls, and in buildings of four floors and higher – with reinforced glass.
SPECIAL REQUIREMENTS
Specific requirements for doors are determined by SNiP 35-01-2001 AVAILABILITY OF BUILDINGS AND STRUCTURES FOR SMALL MOBILE POPULATIONS (MGN).
1. When designing new buildings and structures, entrance doors must have a clear width of at least 1.2 m.
2. The use of swing hinged doors and swing wheel doors is not allowed on the MGN's travel paths.
3. Exterior doors available for MGN may have thresholds. In this case, the height of each element of the threshold should not exceed 0.014 m (14 mm).
4. For double-leaf doors, one working leaf must have the required width for single-leaf doors
2 hinges on each leaf, one of which is bent from 3 mm sheet metal, and one of them is self-spring
90 kg/m3 Rockwool 40 mm, Fire Resistant Gypsum Board (2 unit), 128 Kg/m3 Ceramic wool 13 mm
Electro static powder paint
E Class 120 min. EI Class 90 min.
Fire resistant insulation materials are used in our installations. No mortar or filling